Heavy-Duty Cage RACS
Industrial cage floors are used primarily by University and commercial research facilities. They traditionally use different types of caging than veterinarians.  There are many large industrial runs using chain link fencing for walls.  Larger and heavier-duty cage floors are required.
Industrial Cage Floors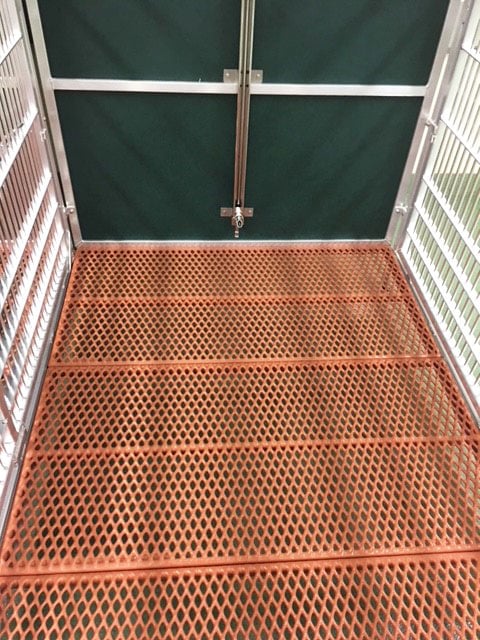 Individual cages are often of a type that has a channel for the cage floor to slide into.  Our standard veterinary floors with legs will not work in such cages.  In both situations, Ridglan Animal Care Systems can custom design and manufacture the appropriate cage flooring.
Most industrial cages for individual animals are of stainless steel with a channel welded to the wall of the cage.  This channel acts as the support for the cage floor which slides into it.  Due to the height restrictions of the channel and the nature of some of the work done, we use a flattened steel mesh welded to a steel rod frame (as pictured).  These channels were originally intended to accept uncoated stainless steel racks. Often they have an opening of only one inch.  Our dipping process adds 1/8 inch of coating to the steel on the top and the bottom. Therefore, it is important to keep in mind the channel height when ordering your Industrial Cage Floors.
Custom Ordering Information
A salesperson is available to discuss your custom Industrial Cage RACS needs. Ridglan Animal Care Systems office ours are Monday through Friday from 8:00 a.m. until 4:30 p.m. Central Time. We are happy to not only discuss your facility requirements, but also provide a price quote.
To expedite the process, please have available the width and depth of the area you wish to cover. In addition, we will ask you what type of animals will be using the RACS and how the RACS flooring will be used in your facility. Call Toll Free! 800-338-3178
For more information about Industrial Cage Floors, click here to contact us.