Provide a Healthy Wall-to-Wall Resting Area
Ridglan Animal Care Systems offers complete Run Covers that provide a wall to wall resting area which is clean, warm, and dry.  These plastic coated steel floor runs are designed with clean lines in a one-piece construction. They are completely coated after welding.
Benefits of RACS Run Covers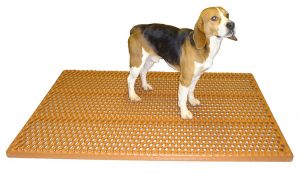 The best method is to cover the whole run with one or more RACS covers specifically designed to fit your area.  This eliminates the concern of an animal laying in its own waste or spilled food and water.  Therefore, it isn't necessary to remove the patient in order to flush the run floor down. This can save facilities a lot of time in sanitation procedures.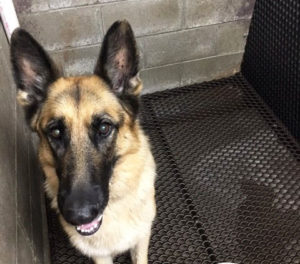 The mesh allows most of the fecal matter to fall through onto the floor below.  In addition, RACS Run Covers have great strength to weight ratio. Floors are strong enough to hold two technicians and the animal they are attending.
The PVC coated metal mesh promotes optimal foot health. RACS run covers are specifically designed for traction.

The CR2 Run Cover
The sturdy CR2 run cover has a flat surface for animal comfort when walking or lying down. The additional surface area provided will reduce or eliminate the occurrence of interdigital cysts (IDC). However, the openings are large enough for easy pass-through of feces. The opening length and width can be customized. It's important to accommodate the pad size of the animals that will be placed on these floors.
Not only does the CR2 have all the benefits of RACS industrial run covers, but also works exceptionally well over drain areas. The CR2 floor can likewise be used as a cage RAC. These floors are custom built to the user's size requirements.
Designed to Meet Your Requirements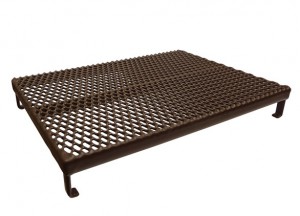 Run covers can be made to fit any commercial or custom made run.  Given your facility's requirements, a custom run cover can be designed to fit your objectives as well as your budget.  With new construction, supports such as pegs, angle iron, or hooks can be provided on the run walls. This eliminates the need for legs.  Custom RACS Run Covers with built in legs can be made up to a total height of 6-1/2 inches from the floor to the top of the mesh.
RACS PVC coated steel Industrial Run Covers are excellent for facilities housing large group pens with chain link dividers.  They can be built with or without legs to keep the animal up and off the concrete floor.  When ordering, it is important to take into consideration the posts and any other obstructions in the cage.
Furthermore, Ridglan Animal Care Systems can also provide you with a total animal flooring system on top of which you can set your chain link fencing dividers.  These industrial run covers have legs which are bolted on so they can be raised to any height.
Ordering Information
A salesperson is available to discuss your custom run covers. Ridglan Animal Care Systems office ours are Monday through Friday from 8:00 a.m. until 4:30 p.m. Central Time. We are happy to not only discuss your facility requirements, but also provide a price quote.
To expedite the process, please have available the width and depth of the area you wish to cover. In addition, we will ask you what type of animals will be using the RACS and how the RACS flooring will be used in your facility. Call Toll Free! 800-338-3178
For more information about Industrial Run Covers, click here to contact us.