Description
If you are looking for an extremely tough dog bed, look no further. The Titan Beds are the strongest dog beds ever built, and the Acropolis style is ahead of the game. The cover is chew-resistant even by remaining comfortable for your dog. This bed is sewn with Kevlar thread and perfect for your chewer with "destructive" tendencies. In addition, it features a never-slip bottom surface for come-and-go ease.
The Titan Acropolis utilized high tech Titan Tough Ballistic performance fabric. In addition, it is sewn with Kevlar making the Titan Dog Beds the toughest dog beds on the market. The cover is chew-resistant while offering a comfortable bed for your dog. Perfect for "chewers"! Handmade with precision from start to finish in the USA.
Titan Acropolis Tough Dog Bed Features: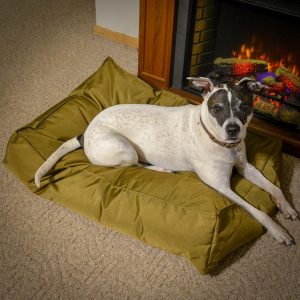 The Titan ballistic nylon fabric is chew resistant
A water-resistant surface makes wiping up spills a breeze.
The bed is filled with high-quality AdaptaLoft cloud fluff to ensure that your dog is always comfortable and supported.
The hidden dual zipper keeps temptation to chew safely at bay
In addition, this hard-wearing dog bed carries the Titan-tough 30-day guarantee against chewers
Because of the Never-Slip bottom, your dog can easily and safely enter and exit.
Questions? We'd be glad to help! Contact Us
$19.99 flat shipping rate. Dog bed orders over $140 ship free!